Hathor is an amateur Middle Eastern Dance (aka bellydance) performance and practice group based in Oxford.
A big thank you to everyone who supported our 15th Annual Summer Hafla, held on Saturday 13th June. We had a fantastic mix of dance groups and soloists, performing in a wide variety of styles and using a good selection of props. Some non-dancer friends commented that this was the best Hathor Hafla that they had seen, so congratulations to all you sparkly performers :-)

The finale was performed by Hathor to Simarik by Tarkan. We danced in loving memory of our Gail Merrett, who enjoyed performing to this song in the early years of Hathor. We wore our individual favourite costumes and performed our favourite moves in a celebration of life and our freedom to express ourselves.

We are delighted to announce that the raffle this year raised £274.50 for Daybreak Oxford, which is a charity specialising in day clubs for people with dementia. They have clubs in Greater Leys, Kidlington and Polstead Road, Oxford. Thank you to all those who bought raffle tickets, enabling us to support this valuable local charity.

Coming up in July, Hathor girls are excited about Shona Hagan's bellydance weekender in Torquay, with Ozgen as star teacher! We hope to see some of you there!

Happy shimmies

Lisa for HATHOR
Our 2015 hafla will be on 13th June at our usual venue of Exeter Hall in Kidlington, Oxfordshire. Download your ticket and performance application form here.
Hathor girls slogged our way round a sizzling Newbury Showground on the hottest day of the year, but it was worth it - we raised £592 for cancer research, in memory of our Gail. Thank you to all who sponsored us. Here we are enjoying our Olympic moment!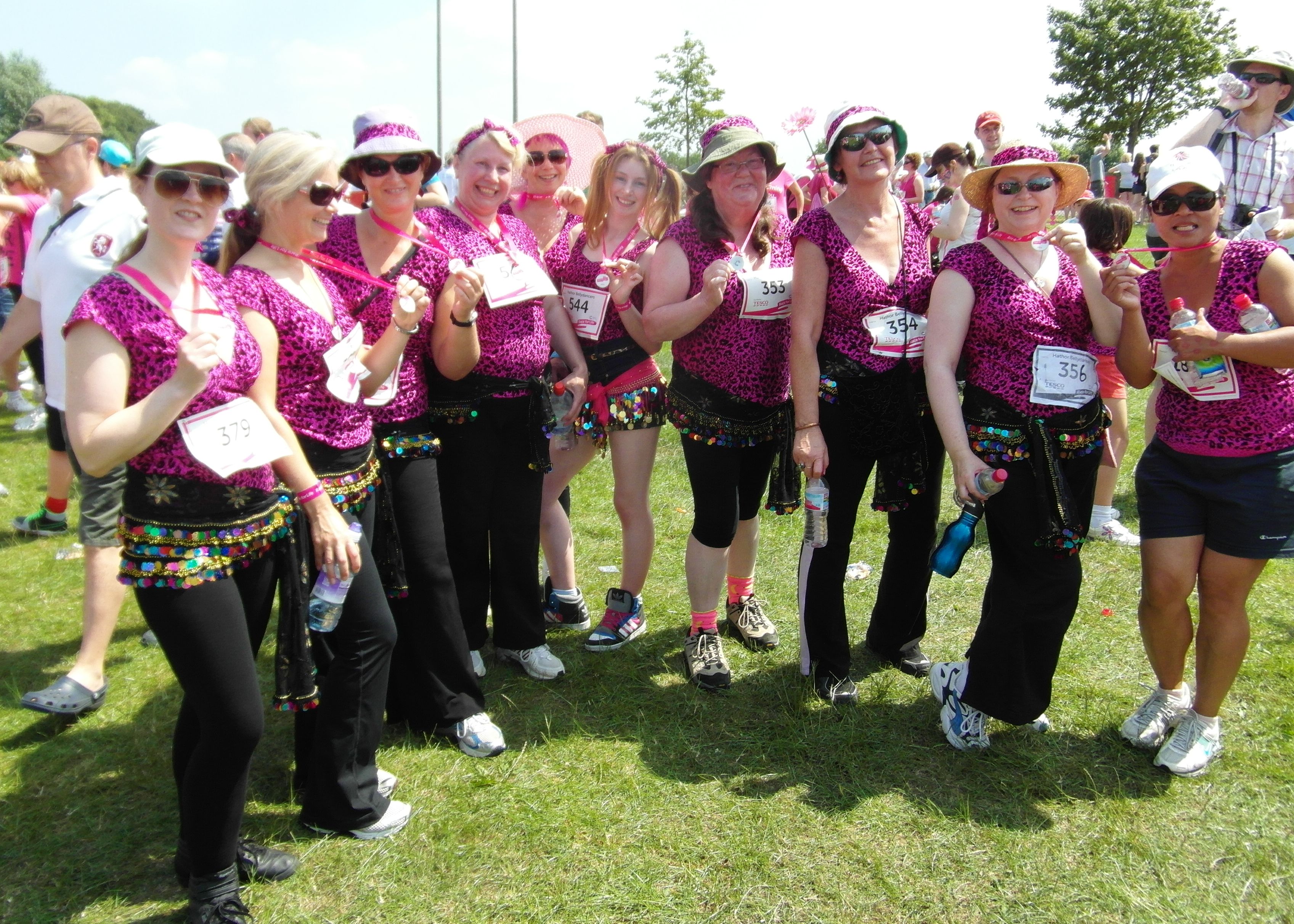 Very pleased to report that thanks to the generosity of our hafla vendors and guests, our raffle this year has raised £319 for SeeSaw.

Well done, everybody, that will make a difference to someone's life.
Posted by: Hathor Webwoman 3 years, 5 months ago
Fed up with chilly weather and the daffodils still bowing their heads? How about something to look forward to this summer? We are delighted to invite you to Hathor's Annual Hafla and Showcase on Saturday 8th June.

Like previous years, we have a glittering souk, lovely big stage and a guaranteed friendly atmosphere. It's a great opportunity to show off your latest choreography, maybe dance on stage for the first time, or just to have a great evening's entertainment from a wide variety of acts.

The Time: 8th June 2013, 7:00-11:30pm
The Place: Exeter Hall, Kidlington OX5 1AB
The Price: £7.50 for adults & kids 12 and over, £1 each for kids under 12
Please bring food to share. Licensed bar in hall.
There is a large car park, and it's on a bus route from Oxford.

Tickets, available only in advance, from:
Hathor, Stonemason's Cottage, 2 Sutton Road, Milton, Abingdon OX14 4ET (sae please)
Cheques should be made payable to "Hathor".
Info line: 07773 642557
Email: boxoffice@hathor.org.uk

Download your application form for tickets and a performance slot here.